John Fitzgerald Kennedy, or JFK, as he is widely known, was a man of many talents – from politics to fashion. He was known for his effortless style that oozed elegance and sophistication. In this post, we will delve into this iconic style, understand his aesthetic, and how it was influenced by his environment. We will also break down his wardrobe choices, including the significance of his suits and casual collegiate attire. Additionally, we'll explore the role of accessories in JFK's style, particularly his signature sunglasses. Lastly, we'll provide recommendations on how you can emulate JFK's style with some suggestions for suits and casual-wear that you can incorporate into your wardrobe.
---
The Iconic Style of JFK
The sophisticated style of JFK continues to inspire menswear today. With a perfect blend of classic and contemporary elements, JFK was known for his impeccable looks and attention to detail. His clothing choices emulated his status as a charismatic and influential leader. From his black tie livery to his more casual attire outside of the Oval Office, Kennedy's style remains an iconic symbol of elegance.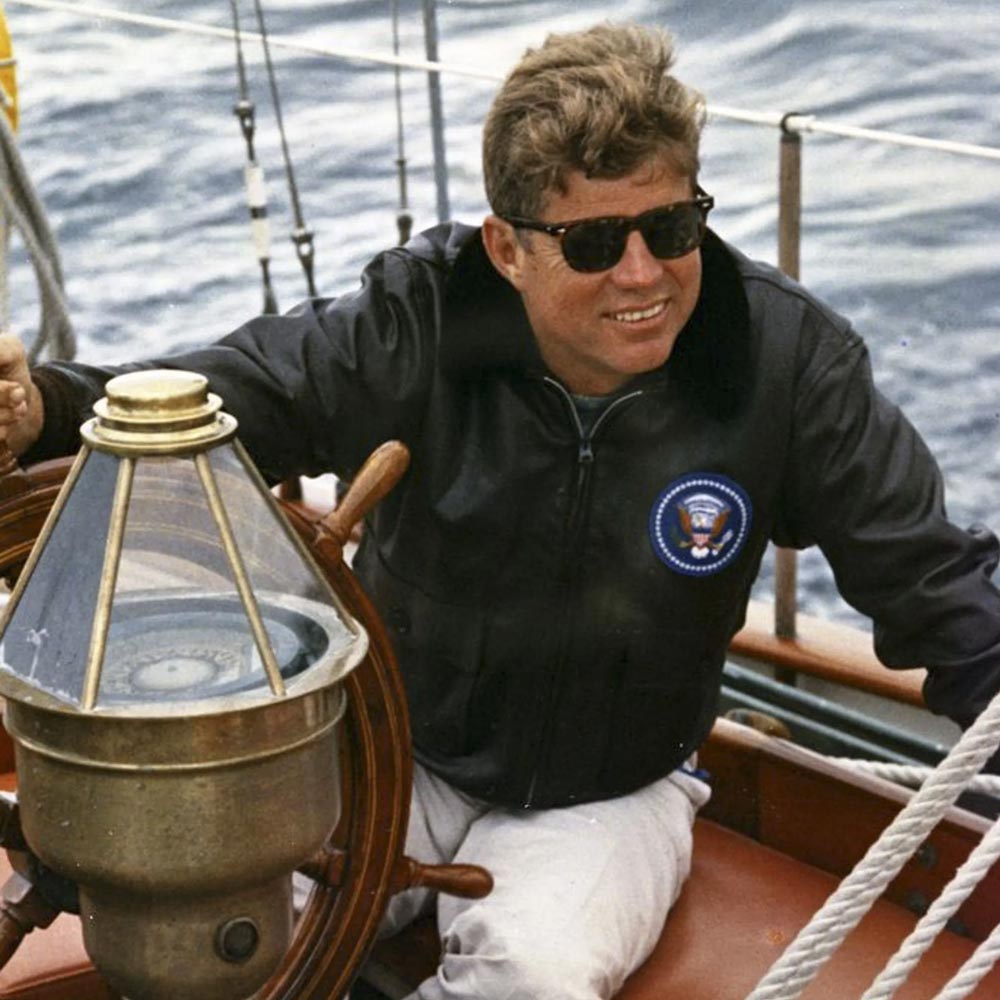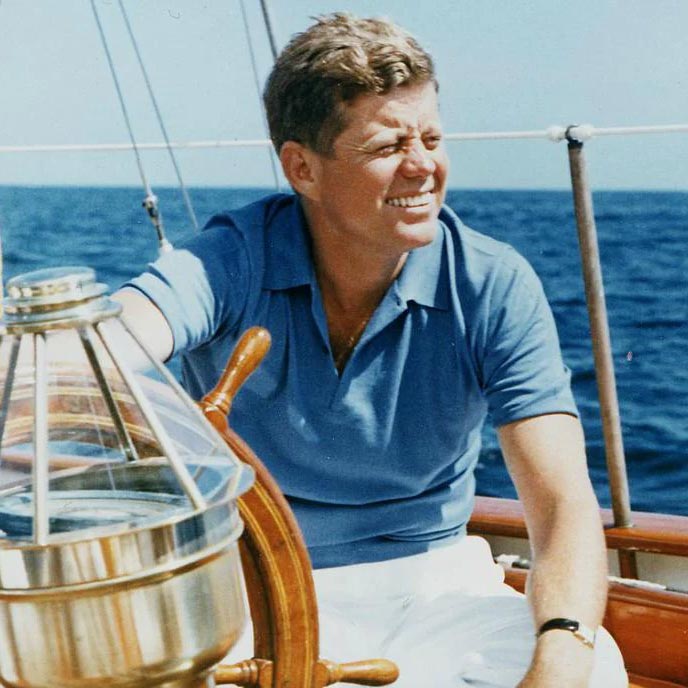 ---
Understanding JFK's Aesthetic
JFK's aesthetic was a reflection of his era and personal background as a young man. Drawing inspiration from traditional Ivy League fashion, combined with European influences, he crafted a wardrobe that showcased refined taste and appreciation for quality. Characterised by clean lines, tailored fits, and understated nobility, his fashion choices perfectly aligned with his role as President of the United States. To recreate this look, brands such as Gant and Sunspel will be your close friend. Both reflect the carelessly refined vision that JFK adorned. Our pick to channel your presidential style would be the Gant Capri Blue Oxford Shirt. Taking its name from the Italian province, Mediterranean style is notoriously easy for wearing all year round. Making it a staple piece that can be layered with a simple sweater, or worn by itself. In addition, the Sunspel Blue Melange Slim Fit Trouser makes a great pairing. Crafted from 100% Wool, these make an excellent addition to any classic wardrobe. Created in a non-crease, throw these on at any moment and expect nothing but luxury.
The Influence of JFK's Era
During the 1960s, JFK's style emerged as a reflection of the social and cultural changes taking place. Society had started to drift away from the extreme formality of pre-war menswear, with influence from the Hippie movement and pop culture of the time being highlighted. His fashion choices symbolised a shift towards a more relaxed and youthful aesthetic, resonating with the younger generation. As president, his effect on men's fashion was significant, shaping the way men dressed during that era. Kennedy's style represented a departure from the customs of previous eras, embracing a more casual and accessible approach.
---
Breakdown of JFK's Wardrobe
JFK's wardrobe encompassed a range of essential pieces, showcasing his refined taste and ability to effortlessly transition from White House poise to more casual attire. His preference for tailored suits made from high-quality fabrics exemplified his ageless style. The plain white shirts he often wore served as a versatile foundation for his outfits, which he personalised with accessories like ties, pocket squares, and cufflinks. Each element of his wardrobe exuded sophistication and attention to detail. JFK's casual attire perfectly encapsulated a blend of preppy and relaxed elements. For a smart yet casual look, he often opted for chinos paired with polo shirts. Embracing the classic All-American style, JFK frequently donned Oxford shirts and penny loafers, as well as throw-over knitwear. His casual wardrobe reflected his active lifestyle and love for outdoor activities, embodying a sense of effortless elegance and understated sophistication.
The Significance of JFK's Suits
JFK's suits showcased the importance of proper fit and attention to detail in men's fashion. Meticulously tailored to accentuate his physique, he often wore slim-fitting suits made from extravagant fabrics like wool and cashmere. The two-button or three-button closure on his suit jackets added to their enduring appeal, creating a modern and streamlined look. JFK demonstrated his understanding of the importance of dressing appropriately for formal events through his refined and polished formal wear choices. Opting for classic black tuxedos with a white dress shirt and a black bow tie, he showcased his status as a head of state. Kennedy's formal attire exemplified his understanding of the power of dressing for success.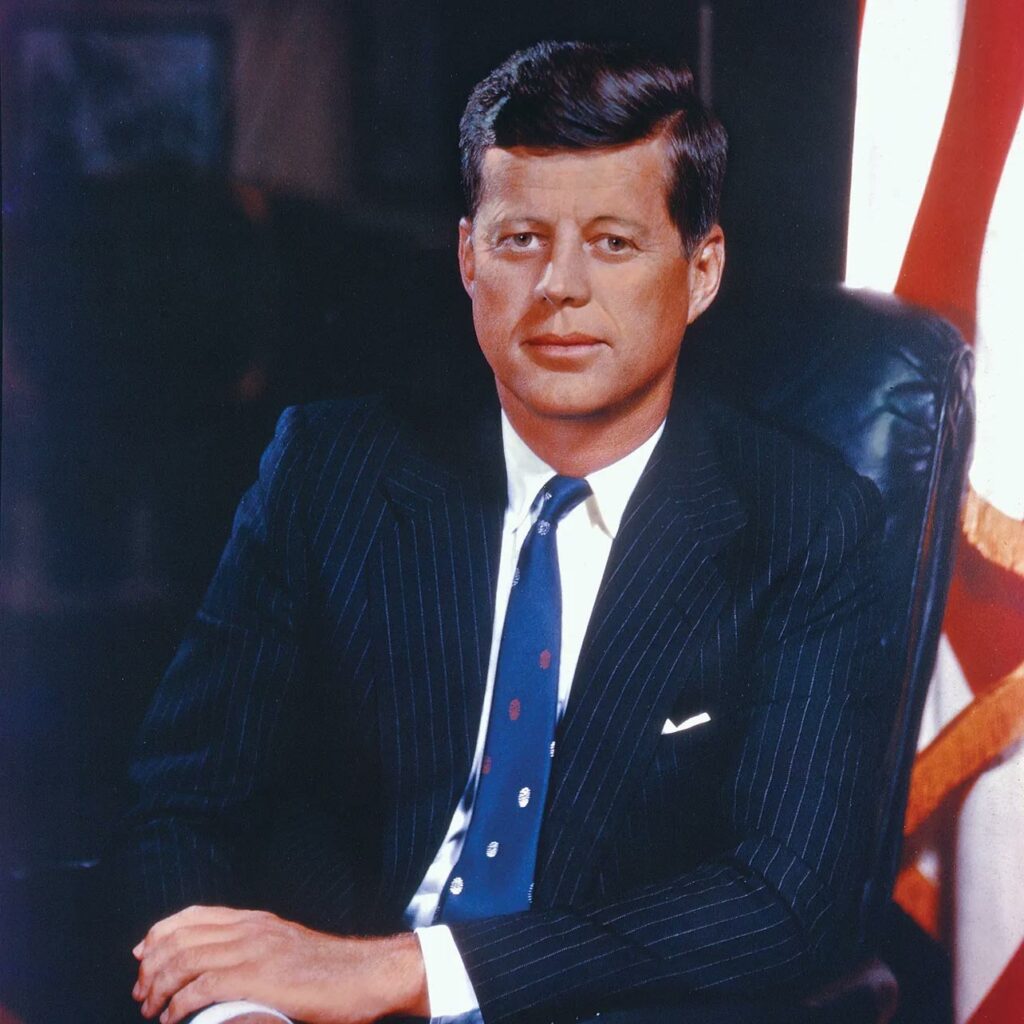 The Sunglasses – JFK's Signature Accessory
JFK's sunglasses became synonymous with his personal closet. He often sported classic outlines that perfectly complemented his facial features. With his signature being the American Optical Saratoga. These shades added an air of mystery and sophistication to his overall look, influencing trends in eyewear. His iconic sunglasses truly made a statement and became a signature piece of his. Our pick to emulate Kennedy's eyewear would be the Messy Weekend Tortoise Brown Sean Sunglasses. Contemporary eyewear is compulsory and these fit that criteria. In a debonair Tortoise Brown colour-way, they'll make a versatile addition to your repertoire. As well as this, Messy Weekend is committed to sustainability, so you'll look your best whilst doing your best for the planet too!
---
How Can You Emulate JFK's Style?
To emulate JFK's style, invest in well-tailored, high-quality pieces with classic forms that can be curated for a variety of occasions. Opt for slim-fitting suits and tailored shirts for a polished look for more important events. Incorporate preppy elements like chinos, polo shirts, and loafers into your casual wardrobe. Accessories like sunglasses, cufflinks, and pocket squares can be added to elevate and embellish your daily style and formal wear.
When it comes to suits, stick with classic styles and colours like navy, grey, and black. Invest in quality fabrics such as wool or cashmere blends for both comfort and durability. Consider a slim fit for a modern look that still allows for movement. Complete the look with simple yet elegant accessories like a leather belt or watch.
---
What Made JFK's Style Stand Out?
Kennedy's style stood out due to its unique blend of sophistication and casualness. With slim-fitting suits, narrow ties, and his signature sunglasses, he exuded confidence and charisma. Influenced by his love for sailing and outdoor activities, JFK's style was a true reflection of his personality. He brought a modern take to the role of president, being the youngest in history to take presidency by election. His fashion sense reflecting the carefree and juvenile nature of the people of the 1960s, Kennedy was at the forefront of both America and US menswear of the time.
---
Conclusion
In conclusion, JFK's effortless flair remains un-aged and fresh even now, 60 years after his passing. His ability to effortlessly blend classic and contemporary, liberal elements in his wardrobe is a testament to his impeccable taste. From his tailored suits to his selection of accessories, every aspect of JFK's attire exuded sophistication. By paying attention to detail and embracing a refined yet relaxed approach to dressing, you can channel the uncomplicated and functional style of JFK.